Home Radon Testing
The heating season, October to April, is the best time to test your home for radon gas. During this period we tend to keep our windows and doors closed, which allows for a more accurate measurement of radon concentrations in the indoor air.
For home testing we offer the E-Perm radon detector. It is a simple, reliable and inexpensive way to test your home and is one of the few technologies recommended by Health Canada. You can order the test online by clicking  on Order Now, by calling us at 1-800-263-5803 (option 4) or by sending us an email to radon@radiationsafety.ca
Shipment of the monitor to your home, laboratory processing fees and a letter from the Manager of our Laboratories explaining your results in plain language are included in the package price of $55.
Factors that control the distribution and movement of radon and typical entry routes into a home for the radon, from Natural Resources Canada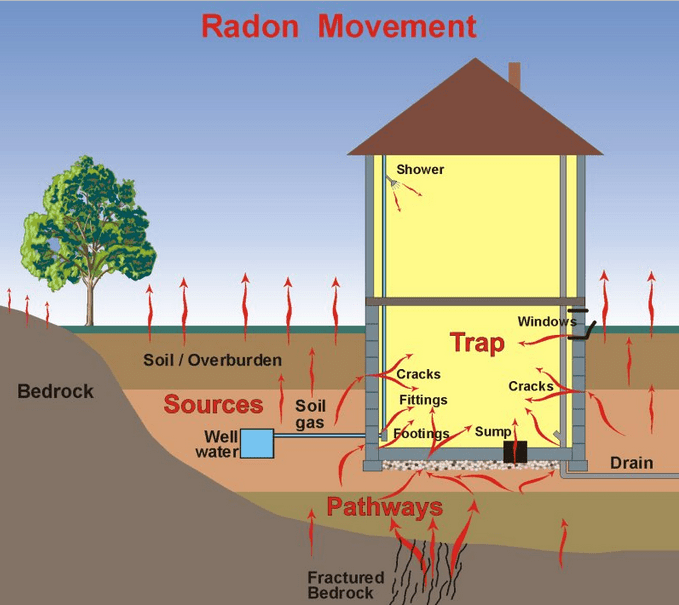 What is Radon?
Radon is an invisible, odourless, naturally occurring radioactive gas that can enter buildings through foundation cracks and similar unsealed openings.
The Radiation Safety Institute of Canada, Health Canada, the US Environmental Protection Agency and most European countries recommend testing your home for the presence of radon gas.
What are the Risks?
Long-term exposure to high concentrations of radon may lead to lung cancer – particularly if someone in your home is a smoker. In fact, radon exposure is the second leading cause of lung cancer after smoking.
What can you do about radon?
Although you can't see it or smell it, it can be readily detected with a simple "do-it-yourself" test. If high levels of radon are detected in your house, you can take steps to remove it. But the single, most important, first step in this process is getting your home tested.

Courtesy of Biomation Canada
How do we test for Radon?
The Radiation Safety Institute of Canada uses a radon monitor called E-PERM to measure radon concentrations. The E-PERM is our choice technology because it is accurate, reliable, easy to use, and environmentally friendly (it can be re-used numerous times). We simply send you an E-PERM by mail, with easy instructions on how and where to set it up. After that, all you have to do is remember to send it back to us to get your results!
How long does a test take?
While we offer you two options:  a short-term test (7 days)  and a long-term test (90 days), we follow Health Canada recommendations and encourage you to conduct the long-term radon test.
How are we Different?
Founded in 1980, the Radiation Safety Institute of Canada has over three decades of experience in radiation exposure monitoring.  Our National Laboratories run the Radiation Safety Institute of Canada's Radon Monitoring Program. 
All radon tests are processed and analysed by our own laboratory staff.  This means that we are able to process your test quickly and send you the result letter within 4 business days of receiving back the monitor. This also means that if you need to speak to someone about your results, our highly experienced scientists are only a phone call away. 
Radon Test Kit Price: $55 + Tax