1st Certified Radon Chamber available in Canada is Only Months Away!
The first Certified Canadian Radon Chamber is coming online in spring of 2017.
The Radon Chamber project that started two years ago is in its final stages. The chamber is currently undergoing certification. Once certified, it can provide commercial services of equipment maintenance and calibration as well as research and development capabilities.
The Institute team, with much appreciated support from Health Canada, has dedicated the past two years to upgrading the chamber's technical capabilities, running experiments to ensure stability of radon concentrations and reliability of test results.
With all the upgrades in place and demonstrated proficiency documented in accordance with the Guidance for the Certification of Radon and Radon Decay Product Chambers, the team is awaiting approvals of the submission from AARST-NRPP.
The Canadian Radon Chamber is located in Saskatoon, at our National Laboratories. In a matter of months, our laboratories' team will be ready to help with spike and performance testing of all radon measurement devices, including: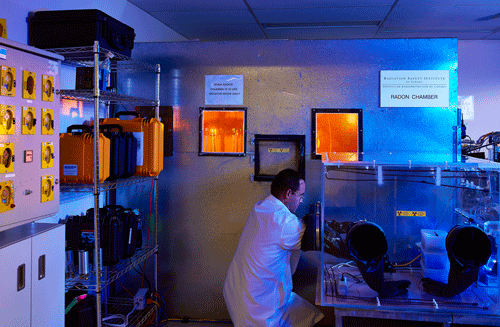 Alpha-Track;
Electret-Ion Chambers (E-PERM);
Activated Charcoal;
Continuous radon monitors;
as well as perform calibrations verification and efficiency determination services for ZnS(Ag) Scintillation Cells and calibration of continuous radon monitors.
For those of you who were with us from the start and provided feedback on the initial surveys: Thank you for supporting us and being a part of this exciting journey! We are every bit as anxious as you are to see the launch of the 1st Certified Radon Chamber available in Canada.
For the new members of the C-NRPP, we would like to say welcome to an extraordinary group of dedicated professionals. We hope to make your important work just a little easier!
The official launch is coming up quickly.
Below you can find the Test Requisition Form as well as Subscription Services and the Price List.
Test Requisition Form
Subscription Services and the Price List