Radiation Safety Officer (RSO-1)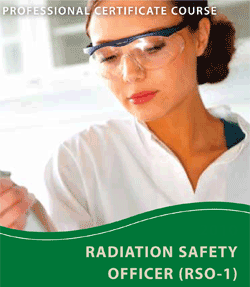 Our five-day Radiation Safety Officer (RSO-1)training is the premiere course of its kind in Canada and is designed to provide certification for radiation safety personnel for companies and institutions using radioactive materials under Canadian Nuclear Safety Commission (CNSC) regulations.
If you are responsible for workplace radiation safety within your organization, you owe it to your fellow employees to benefit from this highly acclaimed program.
How you learn
You learn in a friendly classroom setting over a period of five days. Each day has several learning sessions. Appropriate refreshment breaks are included. Your learning is enhanced by lively discussions and video presentations.
When you complete the course requirements and pass the final exam, you will receive the Radiation Safety Institute of Canada's Radiation Safety Officer (RSO-1) Certificate. You will also be eligible to write the Canadian Radiation Protection Association's professional registration exam.
Subjects Covered
Radiation and radioactivity

Radiation quantities and units

Radiation detection, instrumentation and dosimetry

Biological and health effects of exposure to radiation

Radiation protection principles and practices, including contamination control

Hands-on exercises in the practical application of radiation protection principles

Nuclear gauges and their applications

Workplace radiation safety program: organization and administration

Transport of radioactive materials

Workplace inspections and audits

Regulatory agencies and standard-setting organizations

Licensing of nuclear substances and radiation devices

Key sections of the Nuclear Safety and Control Act and Regulations
Train your colleagues yourself!
To help RSO-1 graduates train workers at their company or institution, we offer an efficient, ready-to-go training tool on CD, "Basics of Radiation Safety". We have a special price for RSO-1 graduates of $299.00 (plus HST). Learn more about the Employee Learning Module.
Upcoming RSO-1 Course Dates:
February 25 – March 1, 2013
April 8 – April 12, 2013
May 27 – May 31, 2013
September 23 – September 27, 2013
November 25 – November 29, 2013
All of our 2013 RSO and XSO courses take place at the beautiful, centrally located Hilton Garden Inn Downtown Toronto hotel. The hotel is perfectly located for easy walking access to the many great restaurants along King Street West. The Hilton Garden Inn Downtown Toronto also boasts its own excellent restaurant, the Marquis Bistro.
The Rogers Centre and Air Canada Centre for baseball, hockey and basketball games respectively, and many other amenities, such as entertainment at Roy Thompson Hall, the Princess of Wales and Royal Alexandra theatres are all within easy reach. Please contact the hotel directly at 416-593-9200 to make your reservation and take advantage of our promotional room rate of $149..
RSO-1 is not for you?
If you find that RSO course is not what you need, please take a moment to look at other radiation safety courses we offer: Radiation Safety Awareness Education and Employee Radiation Safety Training