Radiation Safety Officer Refresher (RSO-2)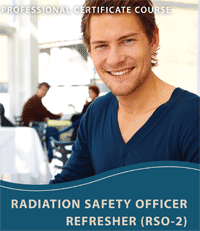 Our two-day Radiation Safety Officer Refresher (RSO-2) training is designed for RSO-1 graduates to reinforce and revive the information learned in the RSO-1 course. If it has been a while since you took your last RSO course, you owe it to your fellow employees to benefit from this highly acclaimed refresher program.
Our RSO-2 course graduates are eligible for the following continuing education credits, if applicable:
*CAMRT Credits are recognized by the ARRT, The ASRT, and all Provincial Associations under the CAMRT umbrella.
Course Date

Course Location

City, Prov.

Sep 12-13, 2017
Canadian Light Source
44 Innovation Boulevard, S7N 2V3 
Saskatoon, SK
Oct 26-27, 2017
Sutton Place Hotel
845 Burrard Street, V6Z 2K6
Vancouver, BC
Nov 7-8, 2017
Radiation Safety Institute 
165 Avenue Road, Suite 300, M5R 3S4
Toronto, ON

Contact Information:
Tara Hargreaves
Staff Scientist and Manager of Training
Tel: 416.650.9090 x23 | Fax 416.650.9920 | Email: thargreaves@radiationsafety.ca
How you learn
You learn in a friendly classroom setting over a period of two days. Each day has several learning sessions. Appropriate refreshment breaks are included. Your learning is enhanced by lively discussions and activities.
You will receive a binder containing the course presentation slides.
When you complete the course, you will receive the Radiation Safety Institute of Canada's Radiation Safety Officer Refresher (RSO-2) Certificate.
Subjects Covered
Overview of Radiation and radioactivity
Radiation quantities and units
Workplace radiation safety program: organization and administration
Employee training
Licensing of nuclear substances and radiation devices

Nuclear gauges and their applications
Operating procedures
Emergency management
Workplace inspections and audits
Transport of radioactive materials
Key sections of Regulations under the Nuclear Safety and Control Act
Discussion workshop: Evaluating a Radiation Protection Program
2017 COURSE DATES
Toronto: National Education Center Location
165 Avenue Road, Suite 300, ON M5R 3S4
November 7 – 8, 2017
Accommodation
The Eaton Chelsea Hotel, 33 Gerrard Street W, is pleased to offer the rate of $155+tax per night to our course participants. Once your course registration has been confirmed a link to the Eaton Chelsea will be sent to you. Please note, proof of your registration will be required upon hotel check-in.
The hotel is located 2 km from the Institute and a daily complimentary shuttle service will be provided to and from the hotel, departing at 8:30am and returning by 5:00pm
Saskatoon, National Laboratories Location
Innovation Place Research Park, 102 – 110 Research Drive, SK S7N 3R3
September 12 – 13, 2017
Accommodation
For recommended hotels please contact Jolene Miner (306) 975 0566 ext 221
Vancouver, Sutton Place Hotel
845 Burrard Street, Vancouver, BC, V6Z 2K6
October 26 – 27, 2017