Radiation Safety Officer Refresher (RSO-2)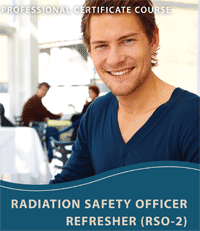 Our two-day Radiation Safety Officer Refresher (RSO-2) training is designed for RSO-1 graduates to reinforce and revive the information learned in the RSO-1 course. If it has been a while since you took your last RSO course, you owe it to your fellow employees to benefit from this highly acclaimed refresher program.


Our RSO-2 course graduates are eligible for the following continuing education credits, if applicable:

* Please visit www.abih.org for further information.
How you learn
You learn in a friendly classroom setting over a period of two days. Each day has several learning sessions. Appropriate refreshment breaks are included. Your learning is enhanced by lively discussions and video presentations.
You will receive a binder containing the course presentation slides and the course textbook. You will be expected to take time outside the classroom to learn the course material. To help you progress, you will be required to do one assignment and take a final exam at the end of the course.
When you complete the course requirements and pass the final exam, you will receive the Radiation Safety Institute of Canada's Radiation Safety Officer Refresher (RSO-2) Certificate.
Subjects Covered
Overview of Radiation and radioactivity
Radiation quantities and units
Workplace radiation safety program: organization and administration
Employee training
Licensing of nuclear substances and radiation devices

Nuclear gauges and their applications
Operating procedures
Emergency management
Workplace inspections and audits
Transport of radioactive materials
Key sections of Regulations under the Nuclear Safety and Control Act
Discussion workshop: Evaluating a Radiation Protection Program
Upcoming Course Dates:
October 16 – 17, 2012
October 8 – 9, 2013
All of our 2012 and 2013 RSO and XSO courses take place at the beautiful, centrally located Hilton Garden Inn Downtown Toronto hotel. The hotel is perfectly located for easy walking access to the many great restaurants along King Street West. The Hilton Garden Inn Downtown Toronto hotel also boasts its own excellent restaurant, the Marquis Bistro.
The Rogers Centre and Air Canada Centre for baseball, hockey and basketball games respectively, and many other amenities, such as entertainment at Roy Thompson Hall, the Princess of Wales and Royal Alexandra theatres are all within easy reach. Please contact the hotel directly at 416-593-9200 to make your reservation and take advantage of our promotional room rate of $149. .