X-Ray Safety Officer (XSO)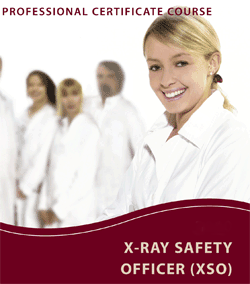 If you are responsible under provincial and federal regulations for the safety of employees exposed to X-rays in the workplace, the Radiation Safety Institute of Canada offers a three-day X-ray Safety Officer (XSO) course.
Your Legal Obligations
Across Canada, many employers and employees responsible for workplace safety are not fully aware of regulations governing the use of X-ray equipment in the workplace. Yet, every province and territory has such regulations. These regulations have the force of law. For example, in most provinces, regulations require that an employer designate and provide the name of a qualified person to oversee the safe use of X-ray equipment. Federal regulations also apply. When you complete the requirements of the three-day X-ray Safety Officer® (XSO) course and receive your XSO Certificate, you will be more knowledgeable about your employer's legal obligations and more confident about your ability to meet them.
Our XSO course graduates are eligible for the following continuing education credits, if applicable:
*CAMRT Credits are recognized by the ARRT, The ASRT, and all Provincial Associations under the CAMRT umbrella.
Subjects Covered
Structure of matter
Understanding radiation
X-rays: radiation made by machine
Radiation quantities and units
Biological and health effects of exposure to X-rays
X-ray systems, X-ray imaging and safety survey
Scattering and attenuation of X-rays
Radiation detection, instrumentation and dosimetry
Radiation protection principles and practices
Hands-on exercises in the practical application of radiation protection principles
What the law requires: Key federal, provincial and territorial regulations on x-ray safety
2017 COURSE DATES
Toronto: National Education Center Location 165 Avenue Road, Suite 300, ON M5R3S4
March 28 – 30, 2017
October 24 – 26, 2017
December 12 – 14, 2017
Accommodation The Eaton Chelsea Hotel, 33 Gerrard Street W, is pleased to offer the rate of $155+tax per night to our course participants. Once your course registration has been confirmed a link to the Eaton Chelsea will be sent to you. Please note, proof of your registration will be required upon hotel check-in. The hotel is located 2 km from the Institute and a daily complimentary shuttle service will be provided to and from the hotel, departing at 8:30am and returning by 5:00pm
XSO is not for you?
If you find that XSO course is not what you need, please take a moment to look at other radiation safety courses we offer: Radiation Safety Awareness Education and Employee Radiation Safety Training